For the first time there were multiple Xcite teams racing in the same race at the 2018 MOJO RAID at Lake Moogerah.  In addition to the usual Team Xcite AR (Fiona and I) in the 12 hour edition, we had Xcite Game of Throw Ins (Tony Mayer and Sharon Forbes) and Xcite AR adraz (Adam Woods and Sheraiz Emamali) racing the 6 hour event.  Tony and Adam are experienced old campaigners, with Shaz and Sheraiz relative newcomers to the sport, although Shaz was on the winning team at our Twin Waters AR last year
We were chuffed that these guys wanted to race as part of the social Xcite team, however, I think it was lure of the team shirt that held the most attraction.  In any case, it was great to have them join us this weekend.
The 12 hour got underway at 8AM, commencing with a kayak, run/trek, then what is best described as a mountain scramble onto Mt Greville, onto the bikes, a foot rogaine through thick scrub, and finishing with a mountain bike to the finish.  The 6 hour race started an hour later and headed off on a mountain bike, split with the thick scrubby trek, then onto the kayaks, and finishing with a run leg.
Our strategy was to clear the 14km kayak, first run leg, and final bike.  Happily, for us we did nearly all that, just leaving 2 run CPs.  The Mt Greville scramble did us in, trying to find a tricky CP in a waterfall (spent an hour trying to find that bloody thing).  We also short-circuited the scrubby rogaine up on Skullies, which was a good decision as Fi got a puncture on the way down, and in my fatigued state, it took easy twice as long to fix it (of course it was the back wheel just to test me a bit more).  Must say though, a lot of fellow competitors passing asked if all was OK, whether they were heading up or down.  Great sportsmanship was shown.
The two 6 hour teams decided to head around as a group.  All was going well until Xcite AR adraz had to pull out due to injury.  They had scored really well (690 pts) for the 3 hours or so they were out there.  Thanks Adam for guiding the team strongly.  Game of Throws In continued on, continuing to pick CPs, including around Skullies (even though they did not see the skeletons and skulls littering the place – they could find little CPs but not the 6 foot skeleton placed right in front of the track on the way up).  They did finish strongly grabbing 3rd Mixed Veterans with 1170 pts, only 50 pts behind 2nd.  Well done on the first podium finish for an Xcite team in a RAID.   I think Shaz has the bug and will be itching for more races next year.
In the end, our 12 hour team finished up on 1850 points, just trailing one of our nemesis teams, Cause We Can, by a miserly 50 points.  Now I wish we picked up those two run CP, worth 70 points (insert angry face emoji here), as we finished with 40 minutes to spare.  We did end up 3rd in the mixed vets, and completed most of what we wanted to do, so we are very happy.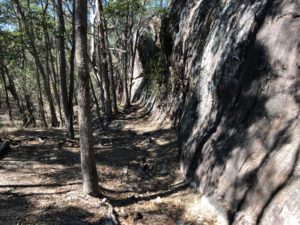 Thanks to Jo and Erren of MOJO, and all your great volunteers.  That was a great event in a cracking setting.  They picked the right day for the race (left photo below shows the lake on the morning of the race, and the right photo showing the fogged in lake on Sunday morning – would have made finding the CPs tricky).