Stone's Throw 8hr Hike and Bike Rogaine
On Saturday, Team Xcite ventured out into the familiar surrounds of Glass House Mountains for the Queensland Rogaine Association 8 hour race.  This was a rogaine with a difference, being a Hike & Bike race.  There was certainly a lot of hiking with the bike.
For this race we travelled around with Team Believe in a Cause, comprising Jason Mac and Tony Meyer, both looking resplendent in Xcite race shirts.  This was a bit of a practice race to check our teamsmanship prior to competing in some longer 4 person team races.  Would we get on or would we throw a tanty at each other?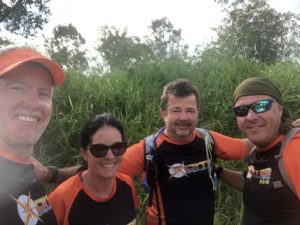 The race started from the campground, and headed south and west through forestry trails and hills, being one of our usual riding areas, and northwards to Beerwah township.  We chose to go south through the forest while it was light, then venture off to the north on roads when darkness came.  For the most part, this strategy seemed OK.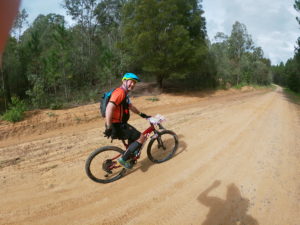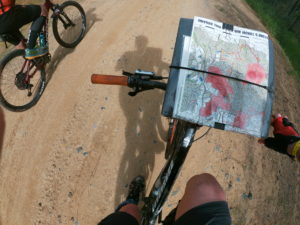 We headed in anti-clockwise direction picking up checkpoints circling around the Twins (mountains) before heading up the hill past Hennessy Hill.  We just love that ride up.  We then hit the powerline and mud holes to CP62 thence across to CP52.
Some young guys up there having a few rums offered us some for sustenance, however, we had to politely decline.  From there, we headed to the lookout to find CP91, which was down a steep gully.  Well done Jason for sniffing that one out.  People sightseeing up at the lookout certainly gave us some strange looks.
After barrelling down the high from the lookout, we made it back to the hash house for the 100 points, before refreshing and heading out on the roads to then north.  We only had one nut case driver doing about 120km past us, while all other drivers were extremely courteous.  The family having a huge bonfire on the side of the road were really whooping it up for everyone heading home.
We were expecting a lot of hills and some soggy boggy trails, and we weren't disappointed.  There were quite a few bog holes to negotiate.
Fiona had a bit of a hiccup following a broken pedal.  Maybe too much spin cycle training causing too much power, resulting in a snapped pedal.
Usually when we ride out in these trails we find a lot of burned out cars, often dumped following a robbery.  One can only imagine why you would set fire to a trailer.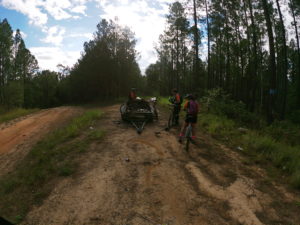 It was funny getting to know a few of our new team mate's methods. Tony has a method of placing little pieces of blue tack on his map to track where we are. During a discussion on where we heading, we used Tony's map on his board, I thought a piece of mud was on his map so I flicked it off.  I didn't know at the time that it was one of his blue tack markers.  I wondered why he gave me a funny look.
Before the race, Jason showed us his "power food" in a plastic zip baggy.  I can only describe it as looking like a sloppy baby poo, but apparently it was mashed sweet potato, vegemite, and something else that just didn't go together.  I think I will stick to my gels and simple peanut butter sandwiches.
In the end we scored 1030 points over 65km to put us in 22nd position of 60 teams, although we did get pipped by a couple of teams that we like to compete against.  We will get them next time.  On a team front, we had a great time with Jason and Tony, and there were no tanties.
Thank you to Peter, the Congo boys and all the volunteers for putting on the race.  It was a lot of fun and presented us with many challenges.